"Can we all just get along?"
Rodney King uttered those now-famous words on May 1 1992, after suffering a brutal beating at the hands of Los Angeles police officers. At the time, I was a thirty-eight year old tech company founder and CEO living in Monmouth County, New Jersey. My company was thriving, on the way to being sold for millions of dollars a few years later. My life circumstances were very different from Mr. King's, yet when I heard his question I immediately understood where he was coming from.
You see, I was born and raised in Flint, Michigan. Coming of age during the 1960s, I saw firsthand the power of entrepreneurship to elevate a city to world-class prosperity. Then I witnessed the power of racial disharmony to bring economic and social destruction to that same city. During the 1960s, Flint had the second-highest per-capita income in the United States. By 2016, the city was an economic basket case that was famous for its toxic lead-tainted water.
Flint wasn't the only city that experienced economic decline in the latter 20th Century. Detroit, Pontiac, Saginaw, Benton Harbor, and other Michigan cities did as well. So did other cities all over this country: Pittsburgh, Pennsylvania; Cleveland, Ohio; Lowell, Massachusetts; St. Louis, Missouri; and so many more. As the lens of my understanding widened, I realized that racial and cultural conflict, changing technology, and environmental crises have long fueled urban community disruption. 2020 was a banner year for such disruption: the murder of George Floyd and the resulting worldwide protests; the Covid-19 pandemic; social distance and remote work; climate change; rampant income inequality. In the U.S., 80% of us live in what is defined as an urban community. We live together – we are connected, interdependent. But can we get along?
Seeking solutions: the Urban Entrepreneurship Practicum
In my Urban Entrepreneurship Practicum course at University of Michigan Ann Arbor, we celebrate and study entrepreneurs who seek to solve important urban problems. Such entrepreneurs have the power to weave a fabric that makes urban communities more sustainable, equitable, and prosperous. Though we will always experience disruption and conflict, the ability to solve problems via innovation and entrepreneurship gives communities a fighting chance to adapt, survive and thrive. The vision is one of desirable communities that meet the needs of all residents.
The Urban Entrepreneurship course introduces students to the challenges and opportunities associated with creating an urban-focused business, i.e., a for-profit enterprise that seeks to improve the quality of life in a city or metropolitan community. We encourage students to seek ground-breaking change by addressing important urban needs with novel business solutions. The course prepares students for any kind of entrepreneurial endeavor, but is especially beneficial for those who choose to create a business that serves an urban community.
Fall 2021 edition
In the Fall 2021 edition of the Urban Entrepreneurship course, 33 students were divided into six teams. Each team was assigned to work with an existing "urban-focused" business – their "Urban Entrepreneur Partner" (UEP). Some of the Partner business were located in the Detroit area, but thanks to the internet, some were located in other parts of the country. The students were charged with A) engaging the business and the community it serves, B) understanding and documenting how the business works, and C) developing and validating ideas for making the business even more effective. At the end of the semester, each team delivered a Business Opportunity Presentation that described the Partner's business model and the team's proposed improvements.
Getting feet in the street: the Urban Experience Tour of Detroit
A key feature of the Urban Entrepreneurship course, and one that is routinely cited as most valuable by the students, is the Urban Experience Tour of Detroit. In 2020, the tour was virtual, but this Fall we were back on the bus visiting several sites and businesses in the City. Many thanks to the Detroit-based entrepreneurs who engaged the class during the tour, including April Anderson of Good Cakes and Bakes, David Alade of Century Partners Detroit, the management team at Shinola Detroit, Karen Burton of SpaceLab Detroit, Godwin Ihentuge of Yum Village (who also catered lunch), and Ehsan Taqbeem of the Bangladeshi American Public Affairs Committee. Nothing like getting feet in the street to understand what the city is like, especially when entrepreneurs and leaders are willing to share their perspective with the students.
This year, a photographer from the U-M Center for Entrepreneurship (CFE) joined the tour and recorded some of the action for an article that appeared in the U-M Detroit newsletter.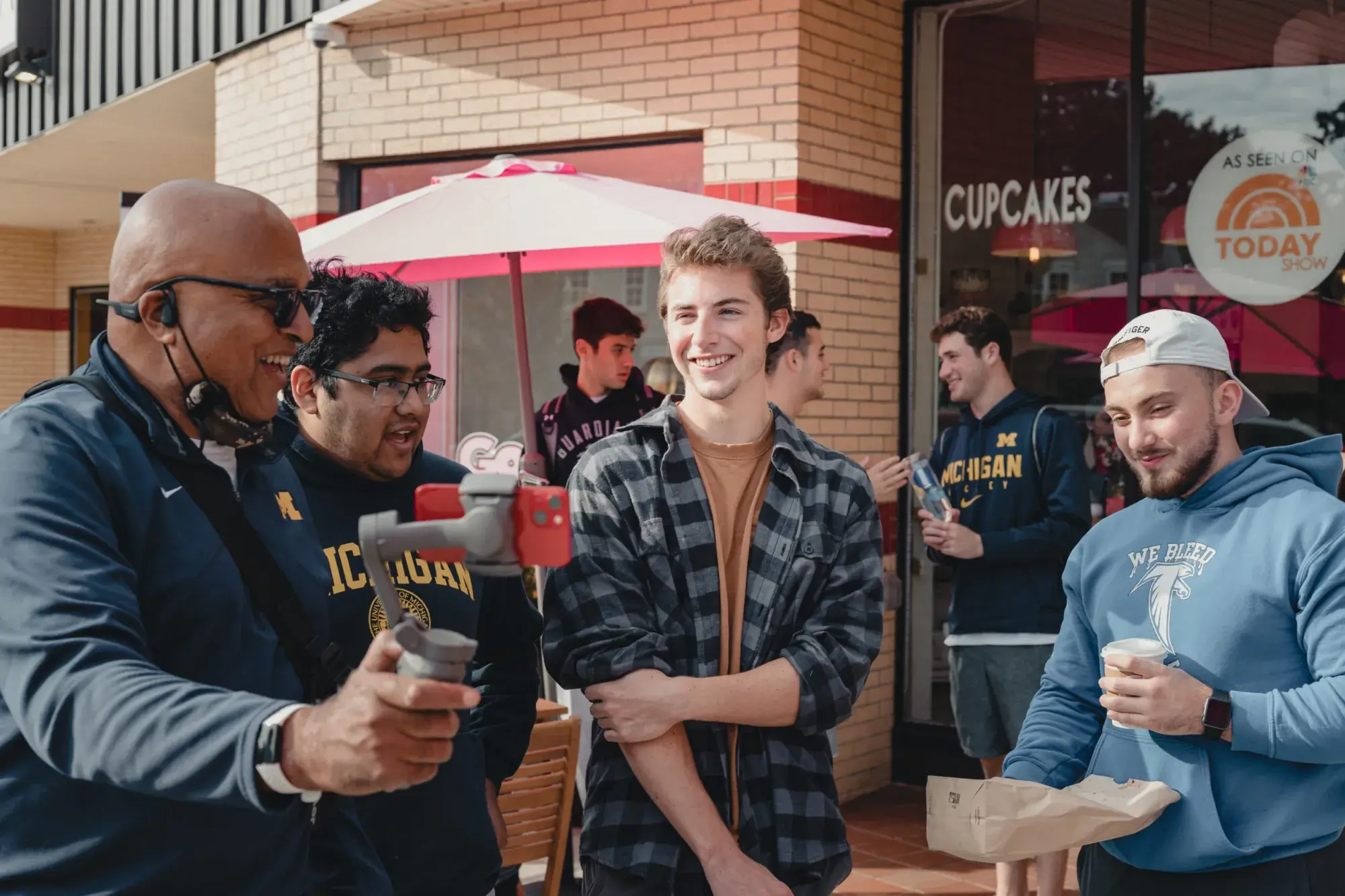 Detroit's passionate small businesses welcome Urban Entrepreneur students | U-M Detroit
Source: Center for Entrepreneurship
Key to the student experience: our Urban Entrepreneur Partners (UEPs)
Our Urban Entrepreneur Partners are essential to the students' successful learning experience. They provide valuable information about their business, the community they are serving, and the customer needs they seek to address. They also connect the students to people in the community who provide valuable insight into community conditions and feedback regarding the Partner's business. Our Partner businesses this semester are operating in key areas that affect urban community vitality, including education, public safety, mobility, and health.
Urban Entrepreneur Partner Businesses
| | | | |
| --- | --- | --- | --- |
| FirstRoot | firstroot.co | California | financial literacy and civics education via participatory budgeting |
| Henry Ford Health System – Digital Health Initiative | henryford.com | Detroit | Improving healthcare system access for under-served populations |
| ShotSpotter Technology | shotspotter.com | Newark CA | gunshot detection |
| Tern North America | ternbicycles.com | Long Beach, CA | electric bicycles |
| The Lab Drawer | thelabdrawer.com | Highland Park, MI | STEAM (science, technology, engineering, arts, math) inspiration and education |
Kudos to the Urban Entrepreneurship Students
I'm proud of my students. They embrace learning about city life and express great interest in the course subject matter and activities. This is true even though, upon entering the course, many didn't know that establishing a for-profit business to solve urban problems was "a thing." Now most are definitely more open to starting, working for, or investing in such a business. That gives me hope.
Can we all just get along? I believe we can. A viable strategy for achieving that vision is to produce more professionals who are intent on using innovation and entrepreneurship to improve the quality of life for people in urban communities.